Nun ist es soweit: Meine letzte Ausstellung läuft! Hier die Ankündigung in der Presse (Klosterser Zeitung)
Now it's done: My last Exhibition has opened! Here is the translated article of the newspaper in Klosters: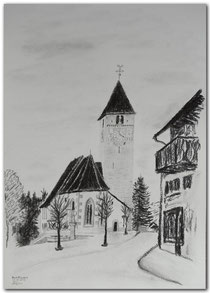 Klosters in B/W
In seiner aller-letzten Ausstellung zeigt der Wahl-klosterser David Brandenberger eine Auswahl seiner Kohle-zeichnungen in der Jugendher-berge Klosters. Nach den Ausstel-lungen an der 2. Kultournacht Klosters und der Hochgebirgsklinik in Davos Wolfgang ist dies nun die dritte Ausstellung in diesem Jahr. Bei dieser kleinen aber feinen Ausstel-lung sind 8 Werke des Künstlers im Aufenthaltsraum der Jugendherberge zu bewundern. In "Klosters in B/W" beweist er, dass er nicht nur die Ölfarben be-herrscht, sondern auch die Reduktion in Schwarz-Weiss. Farblos sind die Zeichnungen, welche Sujets von Klosters und der Umgebung beinhalten, den-noch nicht alle. Da verwendete er auch schon mal Rötelstift für den Himmel vor dem Vollmondaufgang oder kehrte alles um und zeichnete mit Weisskreide auf schwarzem Papier.
Es geht ihm mit den Kohlezeichnungen nicht darum die Umgebung ganz exakt abzubilden, dafür hat er seine Kamera, sondern seine Sicht umzusetzen. Dabei nimmt er sich die Freiheit und lässt auch störende Elemente einfach weg oder fügt passendes dazu. Die Abbildungen in den Zeichnungen sind zwar alle klar erkennbar, aber lassen auch eine eigene persönliche Sichtweise erkennen.
Letzte Gelegenheit also sich die wunderbaren Kohlezeichnungen aus Klosters und Umgebung anzuschauen, bevor er sich im Frühling 2014 wieder auf eine längere Weltreise aufmacht. Die Werke des Künstlers sind alle zu verkaufen.
Ausstellung vom 20. 12. 2013 bis 15. 03. 2014
Jugendherberge Klosters, Haus Soldanella, Talstrasse 73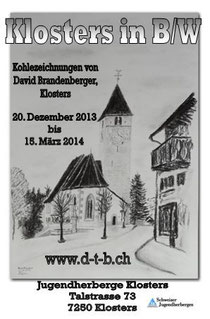 Klosters in B/W
In his last exhibition David Brandenberger of Klosters shows a selection of his charcoal drawings in the youth hostel in Klosters. After the exhibitions at the 2nd Kultour-nacht Klosters and at the high moun-tain clinic in Davos Wolfgang, this is now the third exhibition in this year. 8 Works of the artist in the living room of the hostel are at this small but fine exhibition. He proves in "Klosters in B/W", that he dominated not only the paintings in oil, but also the reduction in black and white. Colorless aren't all the drawings, which include subjects of Klosters and its surroundings, because sometimes he used red chalk pen for the sky before the full Moon rising or reversed everything and lined with white chalk on black paper.
It's not about to depict the environment exactly with the charcoal drawings, for this he has his camera, but to implement his vision. This he takes the free-dom and simply omits also distracting elements or adds appropriate to do so. The figures in the drawings are all clearly visible and recognizable, but make an own personal perspective.
Last opportunity to look at the magnificent coal drawings of Klosters and surrounding area, before he back up in the spring of 2014 on an extended world tour. The works of the artist are all for sale.
Exhibition from December 20est 2013 to March 15th 2014.
Youth Hostel Klosters, House Soldanella,Talstrasse 73
---