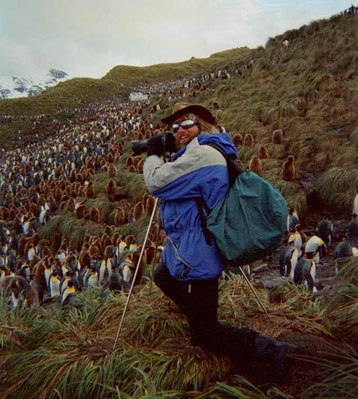 David Brandenberger, born 1970 in Urdorf (ZH), is optician, musician, photographer, and painter, son of Gusti and Heidi Brandenberger and has a brother.
His interest in the Visual Arts awoke at an early age, but they were not promoted by the school system then. Thus the disciplined autodidact taught himself the necessary craft with relish.
He always liked to draw and so he created some works in addition to the school, but his many ideas he could only develop and free express afterwards.
He came to photography as a teenager as well, only the former pocket cameras couldn't perform the way he wanted. Not until after the apprenticeship he snapped the Canon T70, which he inherited from his father and thus went on countless trips around the world. In 2001, it was then replaced by the Nikon F100, and since 2009 he has changed with the Nikon D700 to the digital age finally. Since 2013 he works with the Professional Nikon D4.
The music needed some attempts becaues he most admired with the drums, but it was not possible in the rented flat he lived then. For two years he tried it with recorder lessons at school, which he then not further pursued. Years later, a friend thought him some first chords on the guitar, and meanwhile he created more than forty self written songs. His tools for that are the acoustic guitar Yamaha CG-130A, the electric Fender Stratocaster, the semi acoustic jazz guitar Godin 5th Avenue and now on travel the small travelguitar Yamaha APX T2.

His creativity can be found also in many other areas. It doesn't even stop in his written work. His year's reviews were already legendary, issued annually by his "ghostwriter" Power Pen in the fictional travel magazine "Gravel travel". This includes also his travel report of South America. The Blog is now managed by Power Pen as well. (Sign up in the Newsletter here)

Even though he let himself guide by great role models in all his work, he always make his own unconventional way and leaves his own special style.
Profession:
Optician
Education:
1987-1991 apprenticeship as an optician, Felder Optic, Zurich
Activities:
Various employments followed after his apprenticeship in and around of Zurich. Then he remained resident in Urdorf. In between he set his skills under social commitment as a member of the inter-religious Conference EXPLO 97. He resumed his work as an optician after a three-month trip through New Zealand and Australia in Effretikon for four years. But the appetite was still not satisfied and so he travelled for a year through South America and to the Antarctic. Returned again in Switzerland he chose Grisons as his residence, where he first lived in Flims and settled in Klosters from September 2005 to April 2014. The first Solatrike project failed, so he let built a second vehicle  and formed in the meantime to a dog sled Guide in Kiruna / Sweden. His second Solatrike-Project started in June 2015.
During his professional career as an optician, he has already been able to advise various person-alities such as Udo Jürgens, Max Frisch, Mr. Chandon (from Moët & Chandon), Mrs. Dassler (from Dassler-Clan of Adidas), Mrs. Sacher (Sachertorte) and the Swedish royal couple Carl XVI Gustaf and Silvia.
Training:
1993 Refraction course by J.Stieve
1995 Guitar studies focusing on blues & jazz
1996 Vocal studies by Carl Jahn with focus on blues & rock
2003 Computer studies: Windows XP, PowerPoint and  Photoshop Elements 2.0
2004 Computer studies: Word and Excel
2011 Photo workshop by Greg Gorman
2012 Computer study Photoshop Creative Suite 5.1
         extended
2013 Guitar workshop by Phil Keaggy
2013 Doghandler-course by Lotti Müller, Moskojärvi,
         Sweden

2014 Dogsledguide-training by Taisto Thorneus, Kauppinen (Kiruna) Sweden
01. - 04. 1998  Journey through New Zealand and Australia
09.2002 - 08.2003 Trip through South America and Antarctica
Since June 2015 travel with the Solatrike II
Languages:
Swiss-German, German, English, French, Swedish, Spanish.
Social commitment:
As a teenager, he was a leader of a group in the YMCA and graduated from the youth & sports course "Leader I" in hiking and off-road sports. Later he headed for several years the voluntary patient escort service in the Limmattal Hospital on behalf of the protestant church Urdorf. He is also a supporter of Non-profit-organisations as Greenpeace, Avaaz. and Care 2.

The half of the amount that is given for the Solatrike II is submitted to Horyzon.
Interests:
His creative side of fine arts is described on this Website to sufficient under: photography, painting, music and creativity.
The sports sides of him include skiing, cycling, hiking and camping. In spiritual terms, he was involved in a Bible study group.
Skiing:
Even at the tender age of two years, his passion for the two slats on his feet started and he made his first experience in skiing. -Although the snow between the Tussocks was somewhat tenuous. After his education as a child in the ski school he refined his streaks, as it was customary for him, self-taught more and more. He put his focus in technology, which earned him a second place finish in a technically demanding school race. Race never interested him, as it was mostly a giant slalom or Super-G and never slalom, where he could play out his technical strengths. Moguls, powder and natural hills attracted him more. In addition to the jump standard characters such as "FE", "Cossack" and "Back scratching", his specialty was the "Daffy".
It is therefore not surprising that he feels himself on the black runs, like a fish in the water. As he sped with his 2 m long slats between the moguls in the past he nowadays draws his curves at the highest level with the carving skis, which partially rather recalls at the surf. But he has not forgotten his legendary short-swing technique. 
Anyway, he personally thinks that this is not even so important and considered skiing to be great fun. Of course there are also days on which he ski "like the first human being", as he says himself.
Some stunning movies of skiing are on the subpage: